As part of our group centenary celebrations in 2014 the executive committee of the 14th Hove (St Andrews Portslade) Scout Group decided to introduce a group badge as part of our official uniform.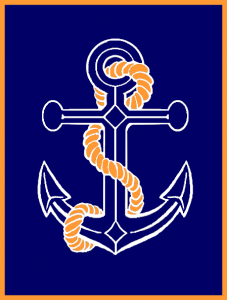 About
The new badge was designed by Timothy Thorley (Scout and Beaver Leader). It features an anchor , this is in reference to St Andrew and Portslade's origin as a fishing village. It is in the style of the (now defunct) Hove & Portslade district badge with the design outlined white on a blue background. The gold overlocked edge is designed to help the badge stand out from our neckers. The gold rope was included as anchors aren't much good without some.
Positioning
It was decided that the group badge would be worn on our neckers. Below is a picture of the correct positioning, the triangle of the necker should be approximately the length of index finger to thumb.